Who am I ?
Basic facts
---
Generel
I retired from my job in the milk business in 1994 at the age of 64, after having worked for the same company since 1958. In my young days I spent four years in Canada. In 1961 my wife Esther, and I were transfered to Holland for three years, and there our oldest boy Jens Jørgen was born in 1961. Our youngest boy Lars (only two kids) was born here in Denmark in 1966.
Jens Jørgen lives north of Copenhagen with his wife Ming. They have a little 3 year old girl, our first grandchild, named Amalie Ying Nielsen .
We really enjoy her company. Lars and his girlfriend Jannie lives in Holstebro about 100 km north of Esbjerg.
Hobbies
I started to play golf when I was 45 years old. Here on the west coast of Jutland we are fortunate to have rather mild winters with only a few days of frost and snow now and then. Our fairways moustly remain green all winter, and we normally play to or three times a week all year round. Well, as I become older my handicap grows with my, it is now 25, but I enjoy the game a lot.

My wife and I also plays bridge in a klub once every week, september through april. And in a private club once a month with 3 other couples.

As a member for 25 years of one of the four Rotary clubs in Esbjerg I normally attend - for social and educational reasons - a weekly meeting in the club.

For the past few years one of my hobbies has been to find my ancestors names,data and other interesting facts about their lifes. When I begun to look, I knew my grandparents names and birthdates, but that was about all. The number of persons now in my record is well in excess of 2000, reaching back to the 12 century in Switcherland ( the Wurtz line) and 14 century here in Denmark and I have not completed my task as yet.
I was told that on my fathers side the first name had changed from Jens to Niels to Jens, from father to son for many generation. This is partly true as can be seen on the following data.

I am keenly interested in recieving your comments, additions and or corrections to what I have found and listed, Thanks in advance.

---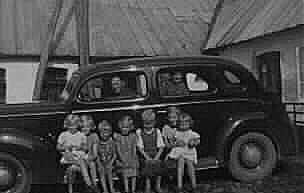 Here is a picture of my father in his new 1938 Ford car, my mother on the backseat, and a few of us kids in front, I am number five from the left.
---
E-mail: nielsn2esenet.dk

Links:
Link to: Homepage of Jens Jørgen Nielsen

Opdateret d. 17-3-04